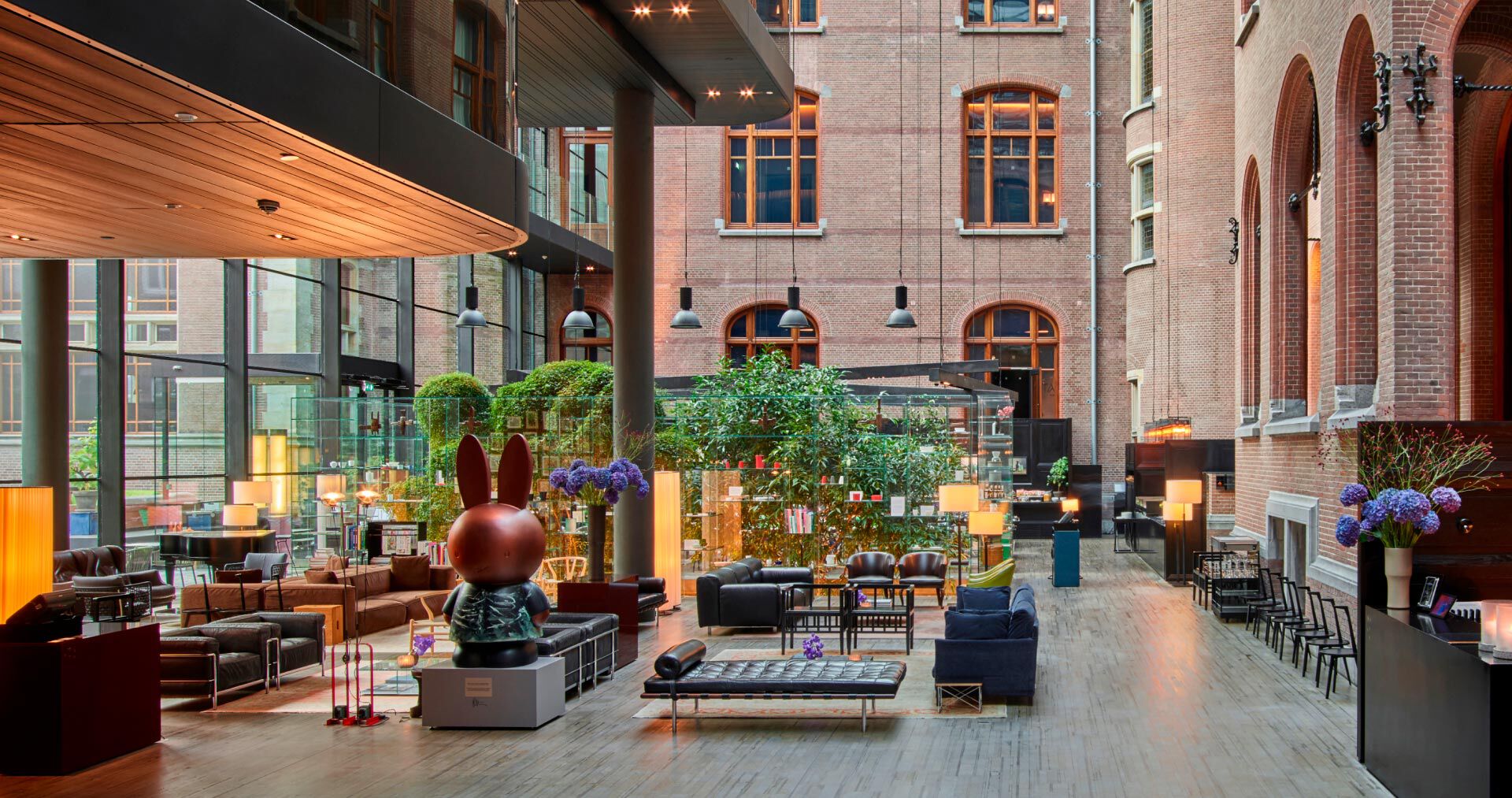 EXPERIENCES
Dream Destinations: Conservatorium Hotel
Discovering the best spa in Netherlands and the Conservatorium hotel with its General Manager, Roy Tomassen
Located in the very heart of the most cultural corner of Amsterdam, the Conservatorium hotel is an architectural masterpiece that combines a landmark heritage building with graceful and contemporary design.

Known as "the living room of Amsterdam", the hotel welcomes guests from the local residential area, as well as international guests, who are looking to disconnect from the buzz of the city and enjoy a luxurious stay with all kinds of amenities.

Today, we have had the opportunity to talk in exclusive with Roy Tomassen, Conservatorium Hotel General Manager, who has confessed us why this hotel is so special and why they have trusted in Natura Bissé to take care of their skin's guests.

Don't miss it!
01
Built in 1897, the Conservatorium has a richly layered history as a bank, then a music school and now a hotel. Could you explain a little more about this evolution and how has it influenced the current design of the building?

Both inside and out, design & architecture aesthetic of the Conservatorium tells its story.

A clear example of this is the playful details of the building's original function as a savings bank: there are stone pigs carved into the staircase to symbolise piggy banks; spider webs on the tiles in the shopping arcade allude to spiders trapping flies to consume later; and the tiles also portray bees, which, metaphorically, save stocks of honey for the wintertime, for example.
Italian architect and design maestro, Piero Lissoni, was responsible for evolving this rich history into a contemporary space. The way he merged the 19th century edifice by encasing its interior courtyard in glass demonstrates a seamless, innate understanding of old and new, public, and private.

Lissoni's style is rich, muted and stylishly pared-back. While his vision contrasts with the decorative nature of the original 19th century structure, it brings a new mood – and a new function – to this historic landmark building.
02
When the Conservatorium was transformed into a grand hotel, you wanted to keep alive your relationship with the musical culture and art of Amsterdam. What cultural activities does the hotel offer?

Regular musical performances are held at the hotel today, but our cultural commitment goes beyond music. An ever-changing roster of contemporary artists displaying their work in the hotel lobby, and we also have a permanent art collection that includes everything from reproductions of historic Dutch masterpieces to brand new commissions inspired by the Conservatorium's cultural and musical history.

On the other hand, some Residence Suites are also decorated with works by artists. Now we have a suite by Jasper Krabbé and a suite by Bastiaan Woudt.

The atmosphere of these Suites is that of an Amsterdam apartment, one with a balcony overlooking the Stedelijk Museum, Amsterdam's world-renowned contemporary art museum. This is exactly why we choose to work with local artists, to celebrate the destination and heritage.
What guests
like the most?
The informal atmosphere and the contrast of the buzz in
the lobby vs the calm of the spa or private areas.
★ ★ ★ ★ ★
03
The Conservatorium has consistently been crowned as the Netherlands' number one luxury hotel but not only for its architecture and facilities. What other elements distinguish you or what other service are you most proud of?

We are known for our exceptional Guest Services team, who are ready to help curate a perfect visit. Catering to unique plans during a stay, we take pride in being able to carefully organise the most inspired experiences, allowing guests to fully enjoy the capital. In fact, we dare guests to challenge us to find something to capture your heart and mind. We're always here for a challenge!

We are a complete product with high quality at every point. Also, the quality of our spa, and the food and beverage outlets, all of it together is like a resort experience.
04
Now that you are mentioning your spa… It has been named as the "Best Hotel Spa in the Netherlands", what makes the Akasha Wellness Spa so special?

The name Akasha reflects a core vision to harmoniously unite the four basic elements of nature: earth, water, fire and air. The combination enables a transformational and balancing experience where body, mind and soul are aligned.

Within our underground escape, spacious facilities for exercise and massages are just the beginning. Earth offers nourishment in our lounge bar, water flows through our spa, fire blazes across our gym and air breezes through our studios.

From nutrition to meditation, yoga to Watsu, guests can enjoy expert treatments, therapies and personal training offered at no other hotel in Amsterdam. Hotel visitors and members have access to the Akasha gym, pool, jacuzzi, sauna and hammam. Non-hotel guests can book a treatment from Monday till Thursday to enjoy two hours access to the pool, jacuzzi, sauna and hammam.
AKASHA WELLNESS SPA MEMBERSHIP PROGRAM
The Conservatorium Spa is also one of the most exclusive clubs in Amsterdam. Akasha offers the local community the chance to utilise this exclusive space to further their goals in their own way. Most members came walking here to practice exercise at the gym or relax in the spa.
05
In 2015 we started our collaboration and from then, every person that visit your spa can enjoy a Natura Bissé treatment. Why did you choose us as a partner?

We choose you because of the Natura Bissé reputation and the very high quality of your products, that matching perfectly with the luxurious services we offer. Locals as well as travelers see The Conservatorium hotel a unique opportunity to experience Akasha Holistic Wellbeing and therefore Natura Bissé body and face treatments.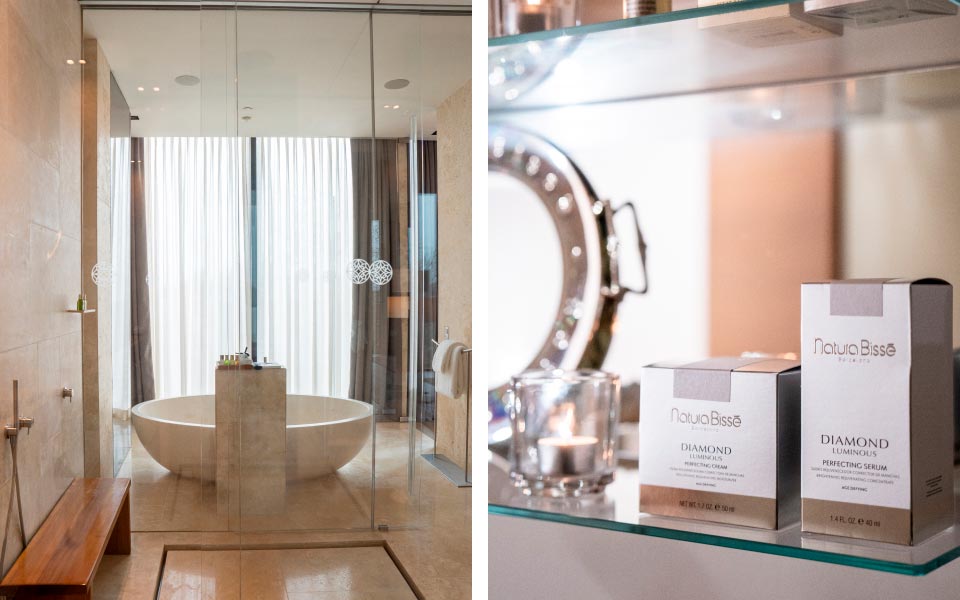 If after reading this article you would like to visit the Conservatorium hotel, book your stay here.
More hotels like this one are waiting for you around the world, discover more dream hotels in our store locator.