Does the skin on your body feel more dehydrated in summer? Does your skin peel and lose its glow? Do you get cracked heels? Well, you're not alone. At this time of year, we're all exposed to elements that dry the skin, like the sun, the sea or the wind. And if, on top of that, we haven't given our body as much attention as our facial skin, we probably need an extra boost of moisture.
To restore all its softness and comfort, we've created a list of our ideal body moisturizers for the hotter months. We have various textures to choose from, ranging from a gel to fast-absorbing oils, and all of them have a unique formula that gives your skin a rejuvenating cocktail. Whichever one you choose, remember to apply it daily after your shower or bath, always massaging it in towards your heart. That way, as well as moisturizing your body, you'll be stimulating your circulation. So, which one takes your fancy?
A REFRESHING GEL Do you love basking in the summer sun? If you enjoy being out and about in the fresh air for as long as possible, remember to give your skin an infusion of antioxidants to keep it looking healthy and youthful. C+C Vitamin Summer Lotion is a powerful moisturizer but has a very light texture, ideal to apply after sun exposure since it includes soothing ingredients like aloe vera and the antioxidant vitamins, C and E. These two vitamins provide intense moisturization and help to reduce the appearance of the signs of aging, revealing firmer-looking skin that is more flexible and more luminous. Perfect for your face and your body, this lotion also helps to make your tan last longer.
A COMFORTING VEGAN CREAM When you notice that your skin is very dry and dehydrated, there's nothing more soothing than a gorgeous creamy texture that drenches your body with moisture. Diamond Well-Living The Body Cream is like an oasis in the desert, an ultra-nourishing refuge that provides intense moisturization, makes your skin beautifully soft and revives body and soul. With more than 90% ingredients of natural origin and suitable for vegans, this cream offers antioxidant benefits for anti-aging action. Its vibrant scent of citrus fruits and ginger will brighten up your day while also revealing visibly juicier, suppler and silkier skin.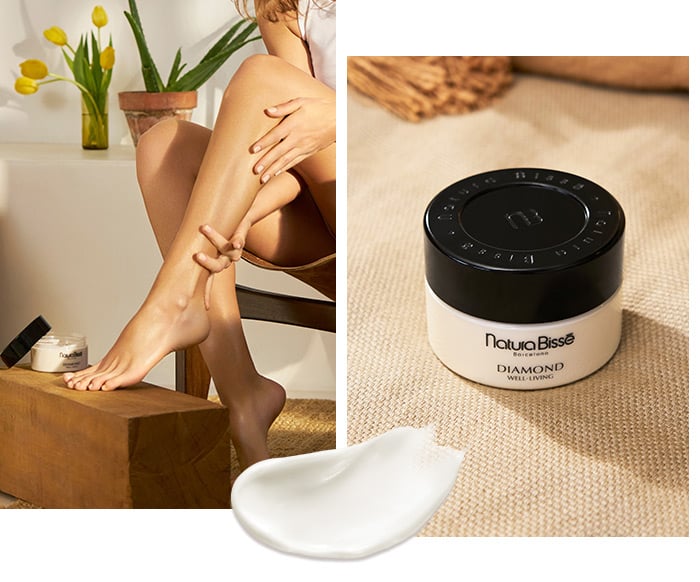 NOURISHING OILS TO TRANSFORM YOUR MOOD Maybe you're asking yourself if using an oil in summer makes sense? The answer is a resounding yes. Because the body oils in the Diamond Well-Living collection have a dry, silky finish, so they don't leave any oily residue and you can get dressed immediately after applying them, giving you dazzling, silky skin. Not only do they restore moisture to the skin on your body, they also transform your mood; you just need to decide how you want to feel today. The Dry Oil – De-Stress gives you a dose of peace and serenity, The Dry Oil – Detox is ideal when you need to press reset, The Dry Oil – Energizing gives you that boost of vitality that you need, and The Dry Oil – Fitness helps to relax your body and clear your mind.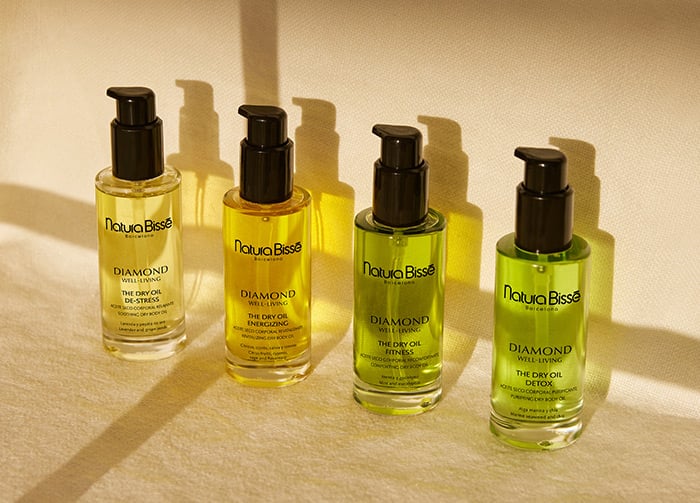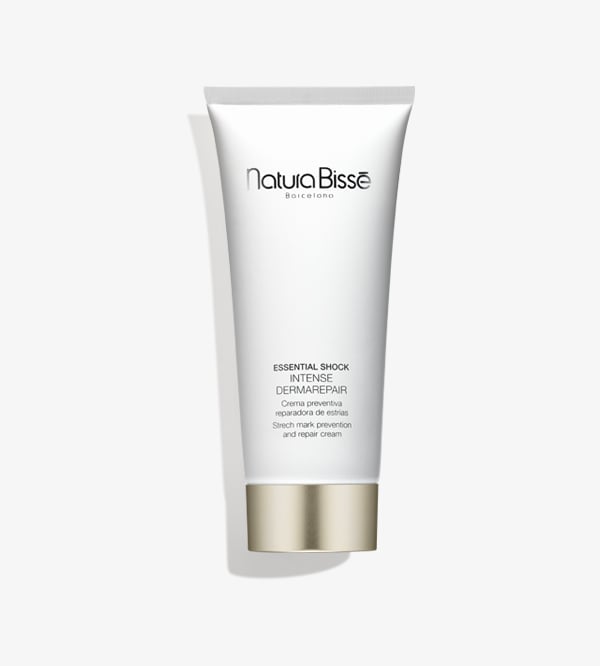 PRO-TIPS FROM OUR EXPERTS: 1. Life is full of change and that includes changes in weight or size because of puberty, pregnancy, diets, hormonal conditions or a whole host of other reasons. Changes that can leave their mark on your skin, like stretch marks for instance. So if you want some help in minimizing their appearance, we recommend Essential Shock Intense Dermarepair. As well as improving the appearance of stretch marks, this super-moisturizing cream also makes skin look softer, firmer and more flexible.
2. If you're worried about specific areas such as elbows, knees and heels, then NB • Ceutical Nourishing Natural Balm is an essential product to add to your summer beauty bag. Made from 100% natural sources, it deeply nourishes your skin to restore softness and flexibility. It's also ideal for moisturizing your cuticles to make them look prettier. And best of all? When you purchase this product, you will be contributing to the Oncological Skin Care program run by the Ricardo Fisas Natura Bissé Foundation.
*Check availability in your region.
3. Are you looking to double up on your moisturizer? We recommend adding a few drops of oil to your body moisturizing cream to add extra nourishment, especially on those days when you need it most.