Problematic skin?
You're not alone
The data is overwhelming: combination or oily skin is how most people describe their skin type. The causes can vary, but people who suffer from symptoms of these conditions usually have one trait in common: the discomfort and insecurity that accompanies this range of skin types.

At Natura Bissé, we want to help you love your skin, especially if you have blemish-prone skin, imperfections, excess oil or enlarged pores. We are here to support your skincare journey by helping you recover and maintain a purified and healthy-looking complexion.
Detecting problematic skin
If you suffer from excess oil or recurring imperfections, you are probably well aware of your skin concerns. But, if you have doubts about your skin type, here is a questionnaire that will help you recognize where you identify on the spectrum.
Does your skin usually show excess oil?
When the sebaceous glands secrete more sebum than usual, it is deposited on the surface of your skin–causing the face to look overly shiny.
Are your pores evident to the naked eye?
By secreting more sebum, the pores dilate and become more visible, causing the skin to lose its smooth and soft appearance.
Do you deal with whiteheads or blackheads?
They tend appear when the pore is clogged by excessive sebum and keratin production. There are two types: whiteheads and blackheads which are both equally annoying and unsightly.
Is your face covered with imperfections or marked by redness?
If so, it is a sign of inflammation. It can also be the cause of developing or excess acne. In this case, we recommend you to visit your dermatologist.
Do you notice excess shine but also tight and dehydrated skin texture in some areas?
Maybe you're not hydrating your skin well enough, or maybe you're treating it with overly agressive products that not only remove natural oils, but also alter the skin's natural moisturizing factor.
Do imperfections appear after shaving?
Razor burns or rashes can commonly develop within bearded areas. With shaving, the skin cannot regenerate normally–when the hair grows imperfections are easy to appear.
If you answer yes to any of the questions, it is likely indicative that your complexion needs special care. Would you like to find out which Natura Bissé collection is perfect for you?
Understanding the cause
Now that you are familiar with the signs of different types of problematic skin, do you know what causes these conditions?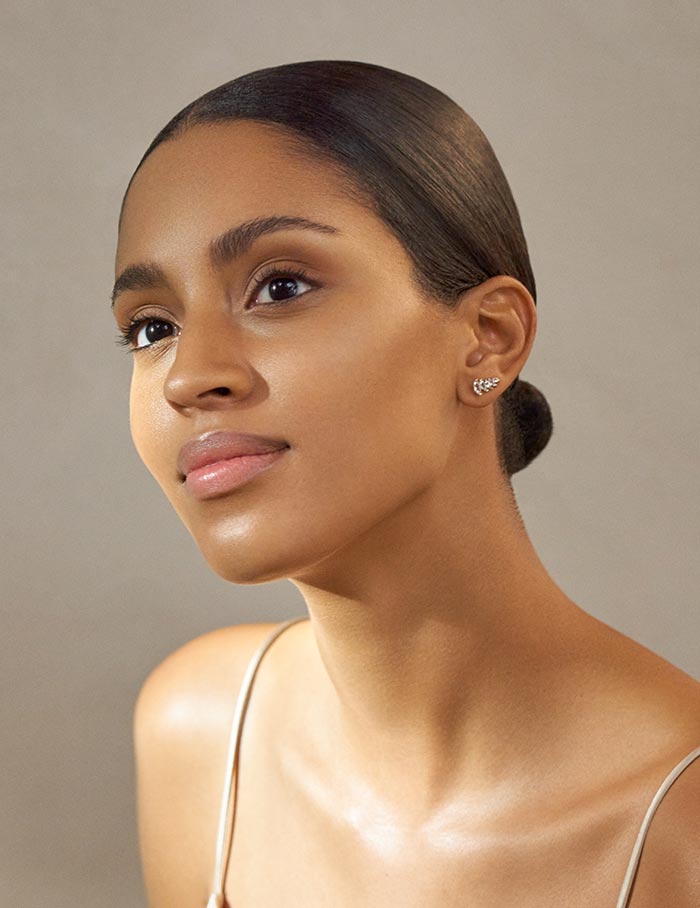 Excess oil
Excess oil appears because sometimes your sebaceous glands do not function normally and produce more sebum than is necessary
What are sebaceous glands?
These glands are located in the hair follicles. Its function is to produce sebum, an essential lipid substance to keep our skin hydrated, resilient, and protected.
Some factors can alter its correct functioning:
- Hormones - Genetic inheritance - Stress - Unhealthy diet - Climate changes - Pollution
Imperfections prone
If we add a poor skin renewal process and an excess of keratin in the hair follicle, the pores tend to become clogged and it is easy for inconsistences to appear.
Comedones, not all are equal, but you can improve their appearance
| | |
| --- | --- |
| | Whitehead (closed comedone or pimple): Sebum and dead cells do not allow the follicle to open, the sebaceous gland cannot drain well, and irregularities are created on the skin's surface. |
| | |
| --- | --- |
| | Blackhead (open comedone): In contact with air, the accumulation of impurities that clog the pore oxidizes and becomes dark. |
Keratin also counts
Keratin is a skin protein that, if it accumulates, contributes to clogged pores and a rough, irregular texture. To avoid this, look for keratolytic ingredients, such as alpha-hydroxy acids that renew and soften the skin surface.
What is your skin type?
There are different skin types that fit within the range of normal to oily conditions. We explain how to identify your skin type accurately because if you understand your skin well, you can give it the most appropriate treatment to best meet your skincare goals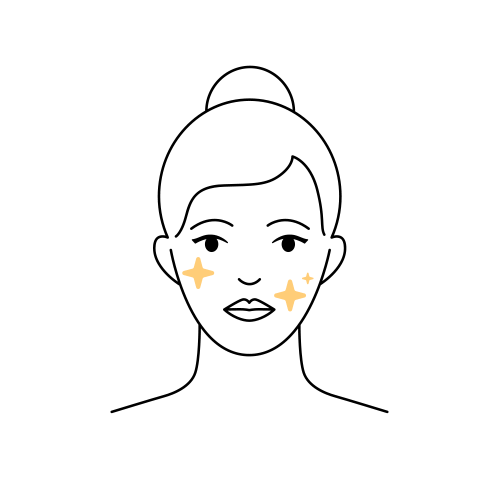 OILY
The classic symptom of this skin type is an excess of sebum (oil), a thicker appearance, and a yellow tone. Thus, the skin looks shiny, has larger pores and although wrinkles are few, it has a tendency to sag. We also have good news: oily skin is more resilient and tends to age better.

Treat it with ingredients that contain mattifying actives and those that are designed to help balance skin natural oils.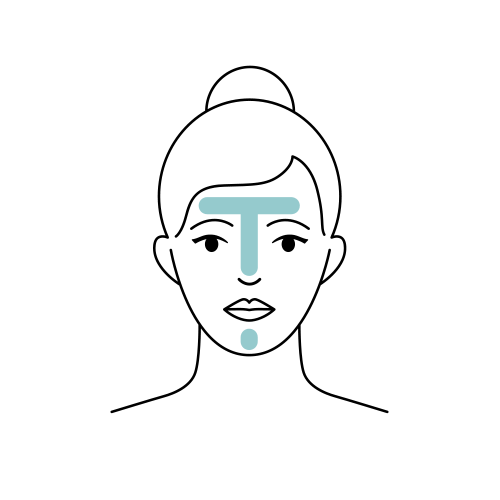 COMBINATION
Combination skin is common when oil accumulates in the T-zone (center of the forehead, nose, and chin), but the skin is drier in the cheekbones and around the eyes. Target your skincare, by using oil mattifying products in the most affected areas and hydrating, nourishing skincare where the skin requires it.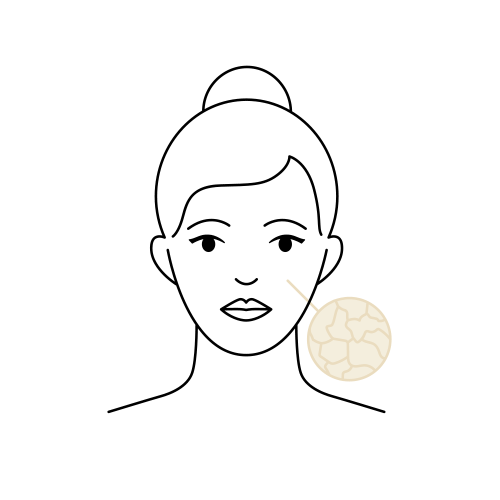 DEHYDRATED
Dehydrated skin occurs with excessive sebaceous (oil) secretion, but at the same time it lacks water, usually due to the use of products that are too agressive. It tends to redden and show signs of roughness or flaking skin. Look for products designed to minimize oil production and provide hydration. Avoid aggressive treatments that can strip the skin of its protective lipids.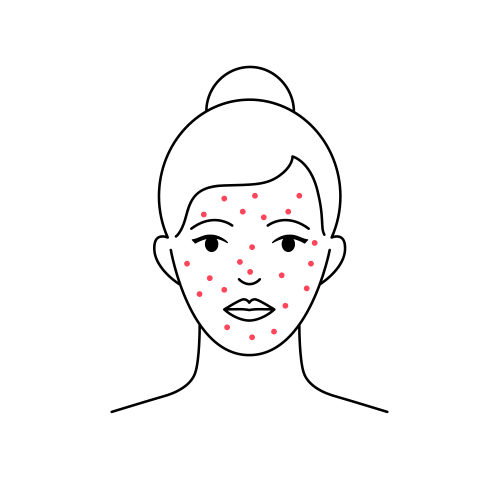 BLEMISH-PRONE
Occurs when the pores are clogged, generating blackheads or whiteheads that can become infected and inflamed. Several factors can cause acne: internal (genetics, hormones, stress) or external (food, medicines, pollution, or infections). If you suffer from serious acne, we recommend you to visit your dermatologist.
OTHER TROUBLED AREAS

Not only the face has sebaceous glands, but also other areas of the body, such as the back, décolleté, and/or buttocks, areas where acne can also appear.
MASKNE

When wearing a mask- moisture, steam, and saliva secretion accumulate in the mouth and nose area, causing obstruction of the exit duct of sebaceous secretion. This blockage, makes difficult the oxygenation process (which is necessary for the health of the skin). The consequence? The imperfections of maskne!
Stabilizing science to the rescue
These ingredients work wonders for problematic and oily skin, as shown by numerous scientific studies. Be sure to include them in your beauty ritual.
Incorporate the right acids into your routine
Exfoliating acids are the best allies to renew the skin and unclog the pores. Don't worry if they will be too aggressive–our formulas are designed to be as efficient and skin-friendly as possible.
Salicylic acid (BHA)
Penetrates the pore and helps dissolve dead cells, excess keratin, and pimples. It also has soothing properties and helps reduce the appearance of blemishes.
Gluconolactone (PHA)
Suitable even for sensitive skin. This gentle exfoliator not only renews the skin surface, helping diminish imperfections, but improves the barrier function and delivers hydration.
Lactic acid (AHA)
Renews the surface of skin, minimizes the look of imperfections, and preserves hydration.
Azelaic acid
Delicate and with soothing action, contributes to minimize skin oil and helps reduce the development of imperfections.
Please note: Products with acids may cause a slight tingling sensation or momentary warmth in some skins. If this happens, we recommend using them 1 or 2 days a week and increasing the frequency until the skin accommodates. Always speak with your skincare consultant about the best way to combine skincare.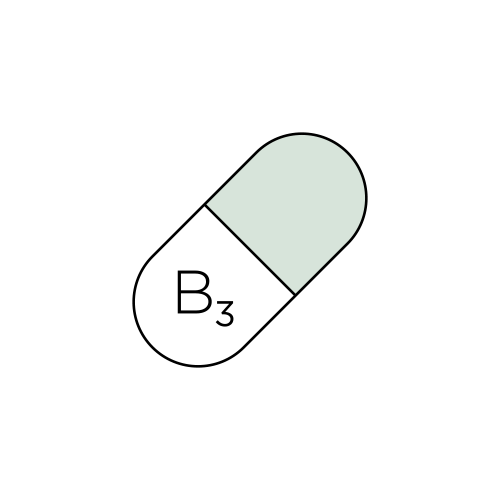 Consider niacinamide your best frienda
A vitamin with superpowers
Vitamin B can be one of your best beauty allies. Not only does it helps minimize the appearance of imperfections, but it also improves moisture and the skin hydration barrier, blurs the signs of aging, and unifies your skin tone. If you have acne marks, you'll notice the difference!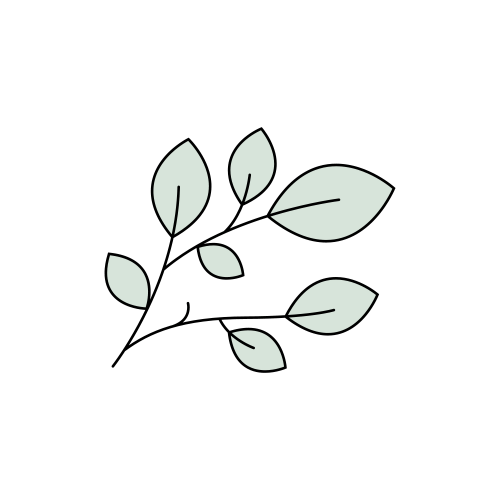 Feel the power of nature
Botanical freshness for your skin
The Stabilizing Line include an impressive combination of botanical extracts, such as elderberry, gotu kola (centella asiatica), rosemary, and artemisia. These plants, well known for their antioxidant and purifying benefits, provide freshness and skin comfort.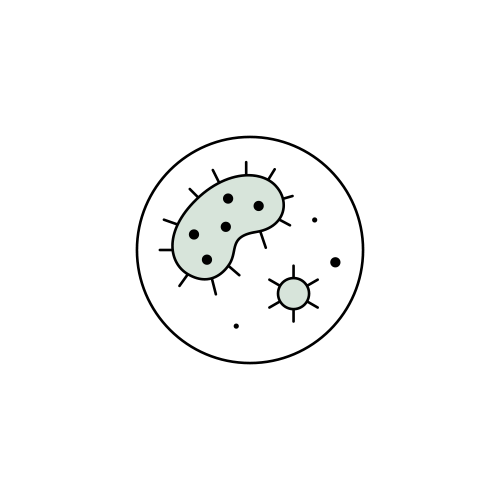 Care for your skin flora
Altered microbiota is a must for unbalanced skin
For all skin types, do you know that prebiotics are essential for a healthy-looking complexion? These and other ingredients such as Pro-Skinbiome, which is also included in both the concentrate and essence of our Stabilizing line, help maintain your skin balance.
The at-home ritual for a glass-like glow
hatever your skin type, the correct facial routine, both in the morning and at night, will help you improve your skin's appearance. Our Stabilizing Line offers a global approach to addressing various concerns and their root causes.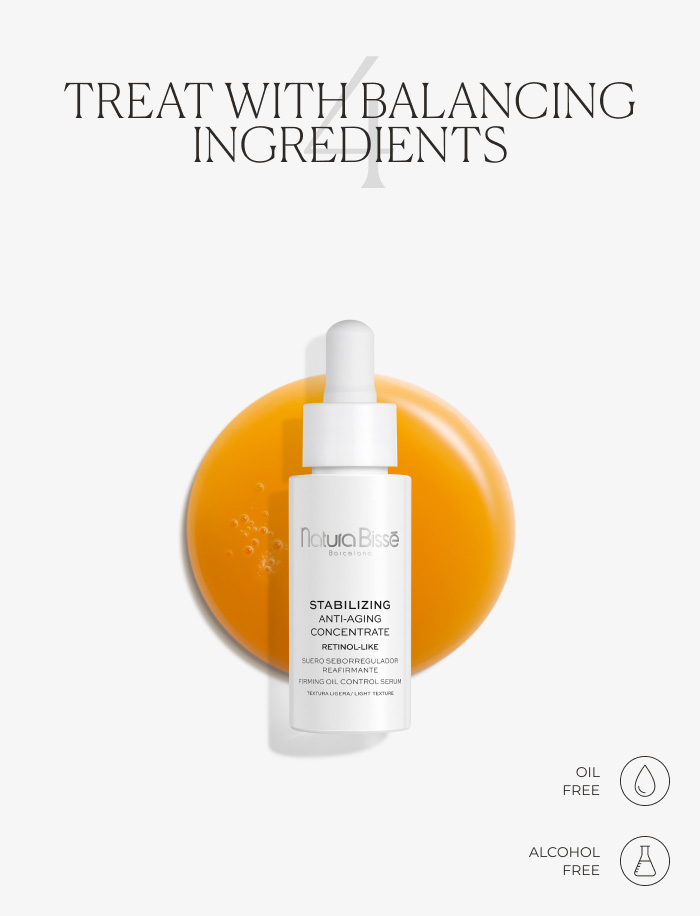 STABILIZING ANTI-AGING CONCENTRATE RETINOL-LIKE
Firming oil-control serum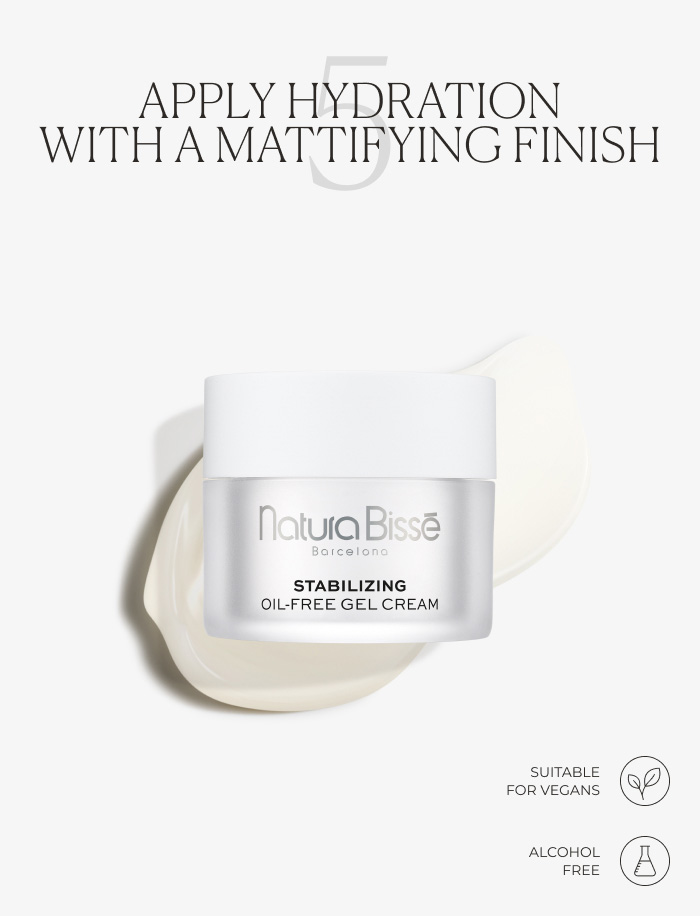 STABILIZING OIL-FREE
GEL CREAM
Oil-control and pore refining moisturizer
SIf you wish to know more about the at-home ritual that transforms your skin, don't miss out this article!
Stabilizing Experience
We recommend combining your facial routine at home with a monthly session of Stabilizing Experience with your aesthetician. An effective professional protocol that reduces the look of imperfections, excess sebum, and enlarged pores to reveal a much fresher and healthier complexion in just one session. All this is applied with exclusive massages and designed with combination to oily skin in mind.
If you want more intensive results, consult with your trusted aesthetician to be advised on the best frequency for treatments.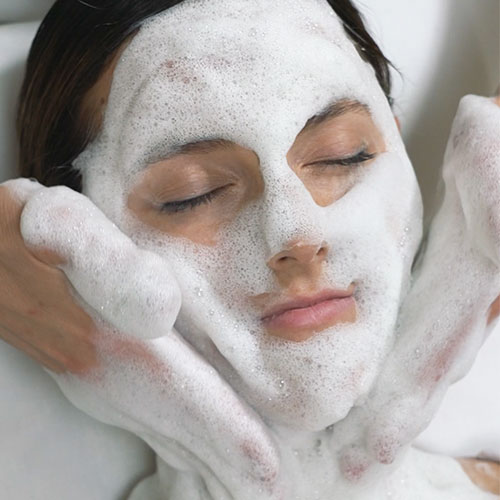 Renews
the skin's surface with an intensive cleansing, an exfoliating essence, and a perfecting peel with lactic, azelaic, and salicylic acids.
Controls
excess shine with oil-balancing and mattifying ingredients.
Balances
the altered skin with an infusion of prebiotics and other active ingredients that help harmonize your complexion.
Restores
comfort and calm with an infusion of super-hydrating agents.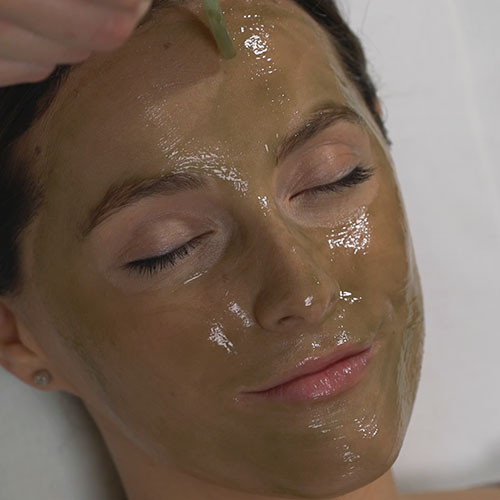 Book with your favorite spa to maximize results of your glass-like glow!
5 expert beauty tips to memorize
KEEP YOURHANDS OFF!

1
SIf you remember being told a thousand times not to touch the face, there is a reason! Not only can you cause an infection because of the impurities that can transfer from your hands to your face... but you can also leave scars and marks that, with sun exposure, can become permanent.
STERILIZE YOUR SKINCAREAND MAKEUP TOOLS

2
If you have oily or troublesome skin, you should be careful using any element that touches your face. Be sure to regularly clean your makeup brushes, facial brushes, and sponges to prevent the spread of bacteria that can worsen your skin condition.
KEEP YOUR SHEETS PRISTINE

3
Hygiene is critical as toxins are your worst enemies. Ensure your sheets, towels, bedding, clothing, and sportswear (essentially, any material that contacts your skin) is kept clean routinely. Using natural fabrics is recommended.
SEEK COMFORTIN THE COLD

4
If you notice redness, you will appreciate cooled freshness. Very gently, you can pass an ice cube wrapped in cloth or gauze (never directly applying ice to the skin) through the affected area to help relieve the feeling of discomfort.
REMEMBER THE POWEROF DELICATE TOUCH

5
When applying your tonic or essence with a cotton pad, remember not to drag it across your face, as it can spread impurities and irritate the skin. It is best distribute product with gentle pats.
You are visiting us from
Please, go to: