Ricardo Fisas Mulleras, the founder of Natura Bissé, believed that every company had a social function: to give back to society as much as it received. This conviction led to the creation of the Ricardo Fisas Natura Bissé Foundation in 2008. This independent private organization has worked continually ever since to contribute to the well-being of people who are in vulnerable situations.


Nowadays, the Foundation continues to support those who need it most through different initiatives in Spain, notably the Oncology Skin Care Program, which offers free skincare treatments to look after the skin of people undergoing oncology treatments in hospitals or through patient associations.

At Natura Bissé, we donate funds to support the fantastic work the Foundation carries out in Spain, as we are firmly committed to providing skin care for people at every stage of life, including when there is a cancer diagnosis.
Oncology Skin Care: A Necessary Specialism

The aestheticians trained in this specialism can offer the most suitable skincare treatments for each individual because the various oncology therapies, such as chemotherapy, targeted therapy, and hormonotherapy, can produce different side effects on the skin. These professionals have learned how to care for scars and the various issues each skin presents; they know which products are most suitable, which zones they can treat, and what questions to ask doctors. They have also learned to listen with empathy, to create a relationship of trust and an atmosphere where the client feels safe and calm so they can disconnect from the disease, at least for a short while.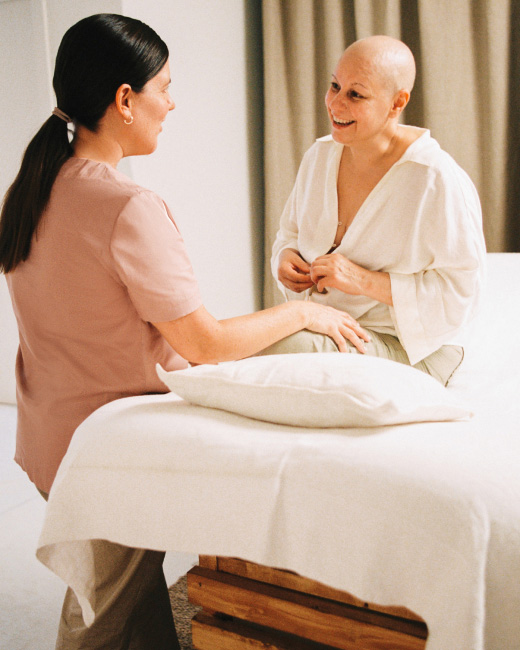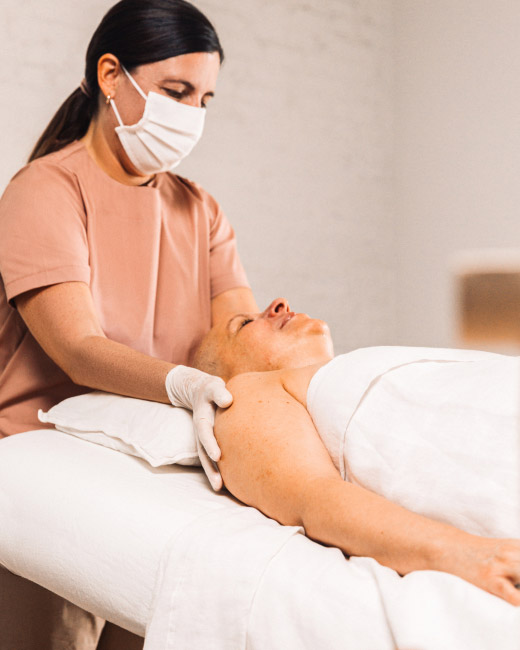 What type of side effects caused by oncology treatments can Oncology Skin Care alleviate?

Itching, extreme dryness on the hands and feet, anxiety, fatigue, or intense tiredness… These are just some side effects experienced by people undergoing oncological treatment. Oncology Skin Care offers personalized, professional, and safe skin care when someone is receiving oncological therapies to minimize cutaneous discomfort and improve their quality of life. This, in turn, encourages adherence to medical treatments.
The Benefits of Oncological Massage

There are specific massage techniques for people experiencing different oncological processes. They promote relaxation and increase a sense of well-being, as evidenced by a study of 1,290 patients carried out by Memorial Sloan Kettering Cancer Center (MSK) in New York. The study confirmed that oncology massage improved the following symptoms by the respective percentages shown below:
pain
anxiety
fatigue
depression
of people undergoing oncology therapy.
Why Is Moisturizing So Important?

It is often said that drinking plenty of water is good for your body and your skin. In these cases, maintaining optimal moisture levels in the skin is also fundamental in keeping it as well-nourished as possible. To this end, the centers that provide oncology skin care offer different products and treatments that are primarily focused on this aspect, including facial hydration, deep body hydration, scalp hydration, hand and feet hydration, pre-radiotherapy hydration, and post-radiotherapy hydration.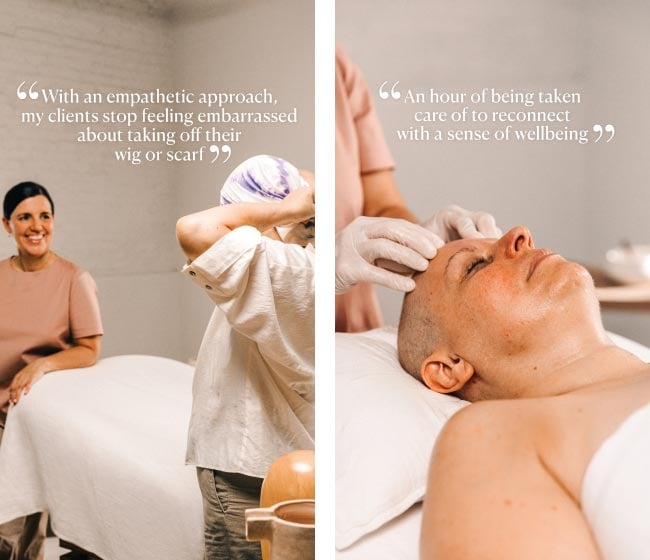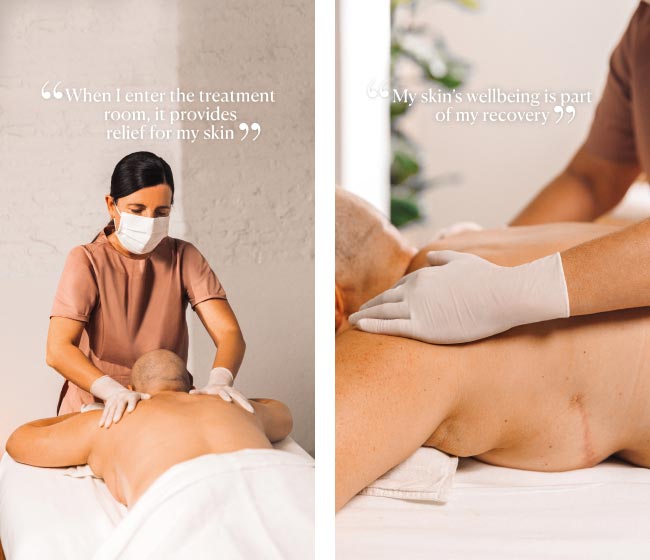 GUIDE TO SELF-CARE

The Ricardo Fisas Natura Bissé Foundation currently operates in Spain and is working to expand to other countries around the world. In the meantime, the Foundation offers some basic steps to self-care and simple solutions to look after your skin at home in a practical guide that may help minimize the potential side effects of oncology treatments on your skin.
CONTRIBUTE WITH THE FOUNDATION

With every purchase of our products, 0.7% goes to the annual donation we make to the Ricardo Fisas Natura Bissé Foundation.
If you want to know more about our Corporate Social Responsibility, click here.