When summer rolls around, our daily routine changes: the evenings stretch out for longer, we spend much more time out in the open air, and we tend to indulge ourselves with more treats. If we add in the effects of higher temperatures, air conditioning, and splashing around in the sea or the pool, it's easy to see why all of this might have an impact on our skin. But how does summer really affect our skin?
We asked Laura Gamboa, our Head of Corporate Training, about the most frequent beauty concerns for this time of year and she gave us her expert tips on how to combat them. Not to be missed!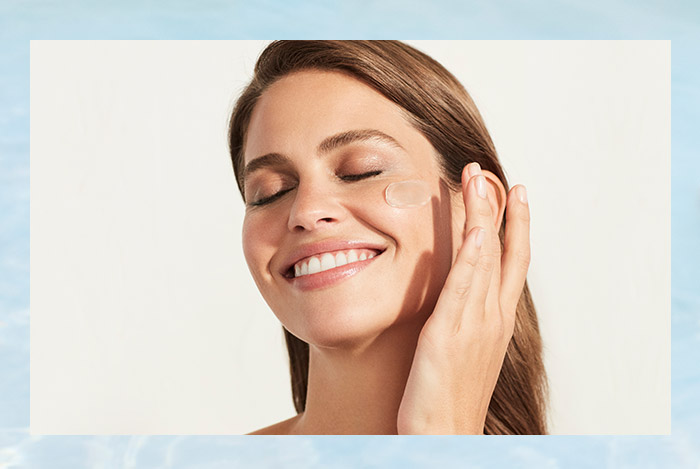 Is it true that our skin becomes more dehydrated in the summer or is it a myth? Although it might seem strange because it's the time of year when we tend to have more water contact, our skin gets dehydrated in summer. The extreme changes in temperature (leaving an air-conditioned room and going outside, for instance), swimming in the sea or the pool, and the sun itself all reduce the moisture in our skin, making it dehydrated. That's why your skin might feel dry and taut, especially after a day at the beach or when you've been out and about in the fresh air all day. So, we recommend adding a few drops of NB·Ceutical Rosa Mosqueta Oil to your regular moisturizing cream and using a nourishing face mask one or two evenings a week. This hydration boost will make all the difference, deeply nourishing your skin and helping to make it feel soft and comfortable again.
How can we combat the effects of sweat to minimize shine?This is one of the big questions that come up every summer! We always recommend choosing a cream with a lighter texture, like a gel or a fluid, and one with a matte finish if possible. It's never a good solution to stop using moisturizing cream altogether since perspiration takes away moisture from our skin as well as causes blemishes. This gets worse in the summer because solar radiation makes the sebaceous glands produce more sebum to compensate for the lack of moisture. At Natura Bissé we make sure that our creams are highly effective regardless of their texture, so choosing more fluid formulas doesn't reduce the great results of our products in the slightest.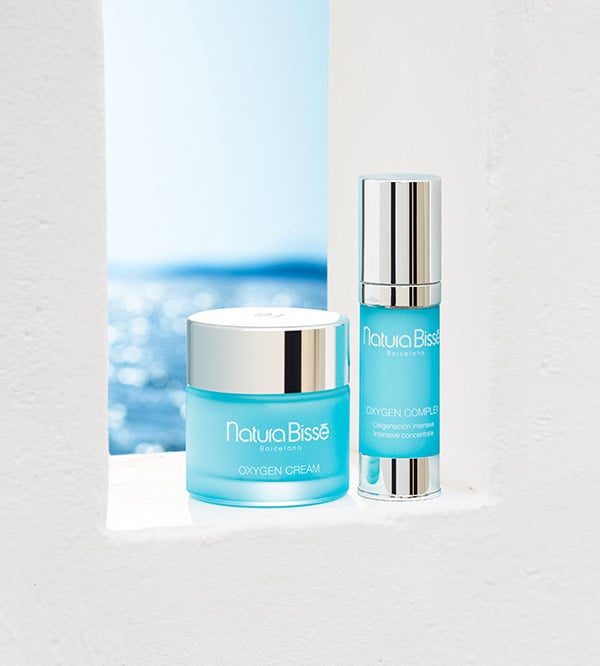 How can we reduce these blemishes? The best thing is to use products that help to reduce the excess oil, ones that purify your skin and minimize the appearance of pores and acne scars. For example, our all-in-one daily cleanser and mask, the Stabilizing Cleansing Mask, is a great choice and also helps to mattify the cutis. This skincare product is one of our most essential items because you can adapt it to your specific skin type. If you notice that your skin feels oily or if you're prone to acne, use it as a daily cleanser. For normal or dry skin, it's best to use it once a week as a purifying mask to remove impurities. For men, we recommend using it as a cleanser every other day and as a mask once a week.
Apart from dehydration, blemishes and shine, what are the most common beauty concerns in the summer? Without a doubt, the skin's worst enemy throughout the summer is the sun. Solar radiation can cause redness, itching or peeling, not to mention the potential long-term negative effects such as photo-aging or even skin cancer.
Is it necessary to use a specific cream after being out in the sun? Absolutely! Lots of people think that you only need after-sun creams if you have a sunburn but, as we mentioned at the beginning, the sun dehydrates and dries out our skin. That's why it's so important to moisturize our face and body after sun exposure. At Natura Bissé, our after-sun lotion is also enriched with vitamins so the refreshing C+C Vitamin Summer Lotion not only soothes skin immediately but also provides intense moisturization, reveals visibly firmer and more supple skin, and helps your tan last longer.
EXTRA TIP:Finally, which product should we always make sureto include in our summer beauty bag?
For me, it's essential to rely on a practical, multi-purpose product in the summer, one of those products that I can use for everything. Because when you're away from home, you never know what's going to happen: your lips can get dry from a lack of moisture, your skin can turn red, or you can get a sunburn on parts of your body where you've forgotten to reapply sunscreen, on your ears for instance. For all those "just in case" needs, I always carry S.O.S. Instant Rescue with me. It's a serum that instantly relieves any skin discomfort and makes your skin feel comfortable again straight away. It's great for getting back a sense of well-being. If you haven't tried it yet, I definitely recommend adding it to your suitcase for any vacation!